^
these
are the napkins I was thinking about... maybe I can alternate by table? Or just do one color. they're 83¢ each if I get 72 or more.

I have this strange desire to buy cloth napkins for our reception and fold them in some fancy way to decorate our tables. I tried out the bishop's hat and think it turned out okay. I could also think about the rose. Of course, I'd probably be doing this the day of my wedding. But that's okay, because if all works out Garrett & I will be married before October 3rd and that day will just be a nice relaxing party. Relaxing and party don't fit too well. Whatever. So, do you like the napkins? Are you impressed by fancy napkins? And which option do you prefer?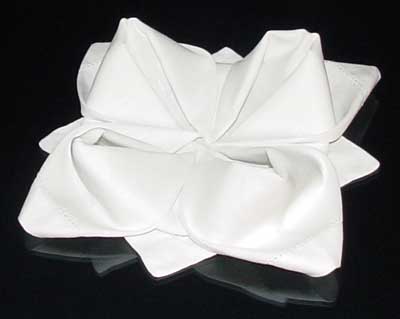 this last one is the rose again, but made with paper. I think I might prefer the look of these, and paper napkins seem like they'd be easier to fold and a lot cheaper! Eh?