I feel like I've been productive. Have I? Not really. But, some of the STDs have gone out (people are slack about addresses so I'll have to pull teeth) and our very very simple wedding website is up (momentville.com, and I did a plain white background because nothing quite fit my artistic vision and we [esp. garrett] are minimalists. I think I should do some more gift registering and feel productive though, right? Isn't that how it works?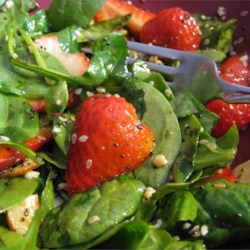 (stolen from an allrecipes user, not the salad I made, but similar)
So, last night I made the most delicious salad. I made the dressing, which Garrett was skeptical about (buying ingredients for a dressing instead of buying store dressing and thus cancelling out our attempt at spending less). Here's the
link
to the recipe. My modifications: no onion because it makes my breath smell (according to garrett), less olive oil ( I just eyeballed it, but it seemed like a lot of olive oil and I knew we wouldn't eat it all). I bought a bundle of romaine (cabbage=head, romaine=?) which was a lot cheaper than a small bag of baby greens and I have a lot left over, I added mozzarella instead of feta (Garrett doesn't like feta), I chopped up half a braeburn apple for it, and I added pecans. It was sooo delicious and I'm probably going to make this salad any time people come over.
I apologize for not having an actual picture, I was starving when I made it and realized I didn't even have a salad bowl so we ate it out of a large skillet. I realized that if I were to post the picture, people who didn't even know me would probably buy us mixing and serving bowls. I don't know why I'm so resistant to buying cooking ware, I guess because I want people to have things to get us that we'll actually need? But seriously, my kitchen lacks a crock pot, mixing bowls, food processor, spatulas, wooden spoons, serving dishes (oh, and our eating dishes have bright fruit slices on them), cheese grater, whisk. I did break down and buy measuring cups and spoons, a casserole dish for lasagne, aluminum foil, wax paper. But we're pretty pitiful.
That being said, I send out a twitter plea for cheap, quick, easy recipes and that still holds. It's easier to ask people for recipes because they know they are good. Although, most of these recipe sites are posted bu people and assumedly they think their recipes are good. Whatever. Send me recipes! Ha!